I finished the Roving Indiana Yarn Crawl for 2016 and went to all fourteen stores!
For the uninitiated, I will briefly explain the basics of our local yarn crawl, now in its third year and including 14 local yarn stores (LYSs).  You
buy a passport from one of the participating LYSs and go around to each LYS (by the way, this a fun day trip with friends) over the course of two and a half weeks.  At each LYS you get your passport stamped and get entered for a store drawing. If you make a purchase at the store, you get 10% off.  At the last shop they certify your passport and are entered into the large prize drawings. In addition, there is a yarn dyed specifically for the yarn crawl.
Sidenote: Its fun to show off your handknits when visiting the yarn shops.
I went to eight of the fifteen stores the first Saturday with a group of friends.  It was a crazy day – we left at 9am and got back around 6pm.  I visited the store near my office one day over lunch and hit the remainder on my own.  I turned in my passport at my last stop, Knitter's Nook in Columbus.  I won't talk about everything I purchased in detail (at the risk of this post taking half an hour to read) but will highlight my top items.  There's a list at the bottom of the yarns, colorways and where I bought them in case you're interested.  Also, I'll be tweeting/posting photos on Instagram of the specific purchases.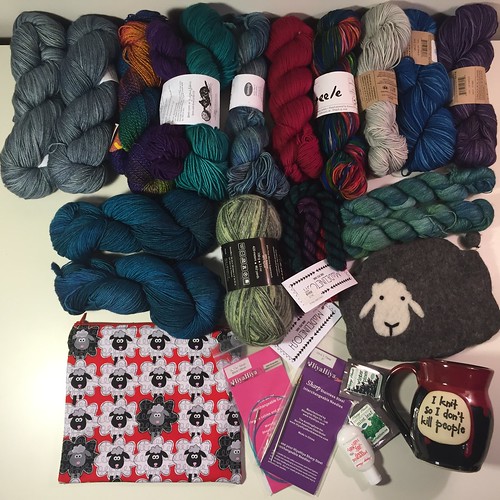 New to me yarns: Araucania's dk merino kettle dyed (the cream, blue and purple in upper right) and Twizzlefoot (third skein from left on top)
An old favorite: Dream in Color Smooshy with Cashmere (blue in center) and Malabrigo Silkpaca Lace (blue-green in middle right)
Some Anzula from a trunk show at The Black Sheep.  This is also where they have a "room of Malabrigo." Seriously – the whole room is Malabrigo.
My favorite purchase: the red handmade mug with a quote on the front.  This is the same place I got the purple angora mug last year.
Ready to cast on now: A shawl using the solid red and the yarn designed for the yarn crawl (just right of top center).
Fun non-yarn accessories: pins from yarn shops (I collect them), the mug and two small notions bags.
Something to try: HiyaHiya Sharps needle tips and cord.  I'm interested to see how these compare to my Chiaogoos.
The master list:
(top row left to right) Denim luster (merino/silk) by Anzula from The Black Sheep in Noblesville
Summit multi-color Twizzlefoot by Mountain Colors Yarn from Broad Ripple Knits in Broad Ripple
Messenger Kit (teal and purple) in Mad Hatter from Wonderland Yarns (Frabjous Fibers) from The Clay Purl in Nashville
Colorway Global Mix in Smooshy with Cashmere by Dream in Color Yarns from Shabby Sheep and Ewe in Columbus
Bright red Cascade Yarns Heritage Sock and the crawl yarn by Knitted Wit from Always in Stitches in Noblesville
Three colors of Araucania Huasco DK from Knitters Nook in Columbus
(second row left to right) Deep aqua Fyberspates Vivacious from Mass Ave Knit Shop in Indianapolis
Angora Lace by Wisdom Yarns in colorway Back to Nature from In a Yarn Basket in Bloomington.
A few Madelinetosh Unicorn Tails in jewel tones from Village Yarn Shop in Zionsville.
Malabrigo yarn silkpaca lace in the Solis colorway from Yarn on the Square in Shelbyville
(bottom row left to right) Sewn notion bag from Willowe's Basketry in Greenfield
Red mug, lotion and HiyaHiya interchangeable tips and cord from Starstruck Cat Studio in Greenwood
Gray felted notion pouch from Frabjous Fibers bought at Yarns Unlimited in Bloomington.